Save 10% on your first order when contacting us through our website!
Subscribe to our YouTube Channel
Subscribe to our YouTube Channel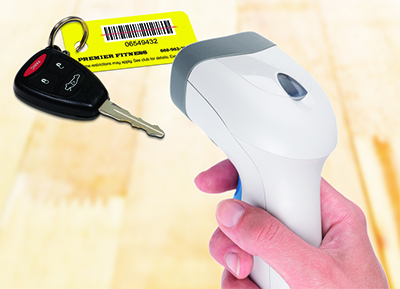 Fitness direct mail marketing is the most cost-effective way to get new members excited about joining. Forget the flimsy paper advertisements that clutter your mailbox – Impact Mailers uses high-gloss, eye-catching plastic postcards that are the best way to market your business.
If you work in the fitness industry, then you understand that one of the biggest considerations for gym-goers is proximity. In fact, the majority of all gym members live within a 10-mile radius of their facility. The Impact Mailer allows you to target the local market that really matters, with pop-out cards and key tags that are easy for new members to redeem and use.
Why It Works
Free trial periods are probably one of the most important ways that your gym attracts new members. Impact Mailers makes it easy to advertise these promotions with plastic pop-outs that work as temporary membership cards. Our product can be barcoded right on the mailer so trial members feel like they are receiving a one-of-a-kind offer.
Does your gym offer additional products or services like personal training, health snacks, or spa treatment? Not only are these great ways to boost new membership, but they are also great for retaining existing members. On the Impact Mailers plastic postcard, you can include a breakaway tag for special offers in your gym, showing new members that your facility offers only the best services and amenities.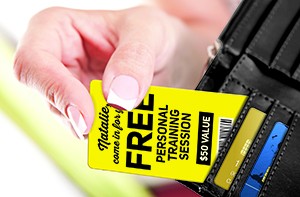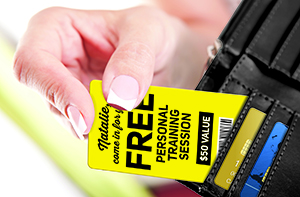 The Impact Mailers Difference
When you choose a direct mailer, you are investing in the future of your business. Gyms today realize that there is immense competition in the fitness industry and the best way to attract new members is to market directly to their mailbox.
Impact Mailers provides unparalleled results, boosting the return on every marketing dollar and helping your fitness club thrive for years to come. Here are a few reasons why Impact Mailers can help your business succeed:
New Member Focus: To keep track of customers at your gym, you probably use a database of current members' addresses and information. Impact Mailers can cross-reference this database to exclude current members from your mailings. No extra marketing dollars are wasted on addresses that are already members at your fitness center. Everyone that receives your gym's postcard has the potential to become a new member.
Member Loyalty Programs: For existing gym members, our plastic cards are the perfect way to promote a fitness loyalty program. Whenever a member refers a friend or signs up for a personal training session, you can load credits or rewards directly to their card. If your gym doesn't already use a loyalty program, then the Impact Mailers card is a great place to get started!
Durability: Paper advertisements are a thing of the past. Our plastic postcards truly stand out in a cluttered mailbox and generate conversion rates far greater than paper fliers. The weight and feel of a plastic card is more likely to get noticed and stay intact for years.
Personalization: Every card that we mail can be printed with personalized greetings, names, or offers. Individuals on your mailing list can receive distinctive advertisements that are unique to their household, brandishing a personal invitation for them to join your fitness center.
Graphic Design: Impact Mailers has years of experience in the design of direct mail advertisements. Our team of experienced graphic designers can develop a professional, attention-grabbing postcard with a logo, slogan, or image of your choice. Our high gloss plastic cards come in a variety of shapes and sizes for the ultimate standard in direct mail advertising.
Growing the membership base at your gym or fitness center is easier with Impact Mailers. Click here to check out some of our fitness cards or call us today at 1-888-983-2250 for more information!