ACQUISITION
Impact Mailers is pleased to announce that they have been acquired by Triadex Services. For nearly two decades, Triadex Services has been a trusted provider of direct mail and digital marketing services to countless brands across the country.
 Named America's 92nd Fastest Growing Private Company by INC. Magazine!
PLASTIC POSTCARDS
Impact Mailers is your one stop source for high-powered plastic postcard direct mail campaigns. Impact Mailers unique design with pop-out gift cards and key tags have a superior read rate out of the mailbox and our clients have reported returns two to three times higher than traditional direct mail products. Why? Because they flat out GET NOTICED! Look forward to maximizing your return on investment when using Impact Mailers. Our team will guide you through the entire production process. From layout and design to mailing list selection, our direct marketing professionals make sure you are targeting the right audience with your marketing message. The credit card look and feel of the Impact Mailer offers an immediate perceived cash value to consumers similar to a gift or loyalty card. For this reason, Impact Mailer plastic postcards are retained by consumers for months and not immediately discarded like other types of paper mailers and flyers.  The Impact Mailers team has over 100 years experience in the direct mail industry and our staff of sales, design and production professionals enjoy putting their years of knowledge to work for you.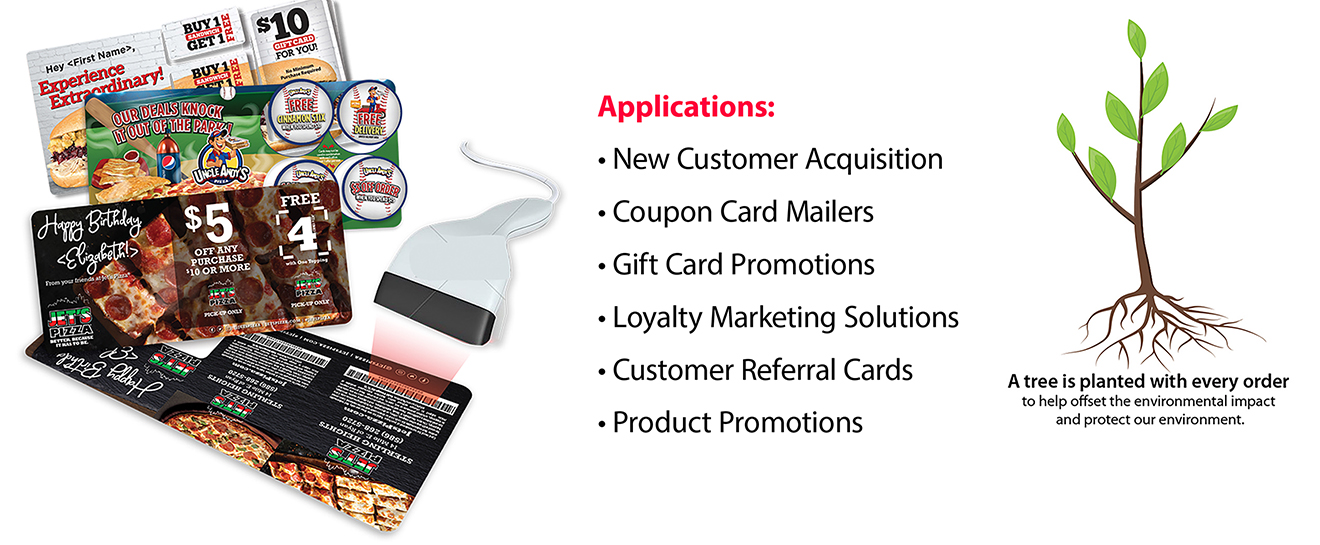 PAPER POSTCARDS
We are your one-stop-shop for paper postcards as well! Our paper marketing options offer our customers a variety of sizes to make an impact on their campaign.  Oversized postcards are one of the creative types of postcards that can be used for various purposes. These postcards can go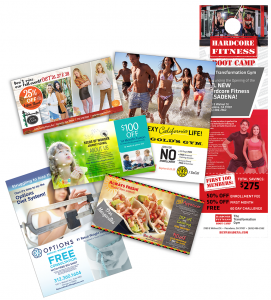 up to 11" x 14" in size, plus we have paper door hangers as large as 5" x 17"! What an IMPACT those can make! These larger formats allows more room to work on with images and text. Special coatings can be added to give the postcard another dimension and added rate of retention.
Aqueous Coating
This clear coating is used to protect your printed pieces.
It provides a high-gloss surface that deters dirt and fingerprints.
Improves the durability of postcards as they go through the mail, and protects business cards as they get shuffled between clients.
UV Coating
UV coating, often called liquid lamination, is a highly protective, ultra-shiny gloss coating that we apply over aqueous coating and then cure on a special machine using ultraviolet light.
The solvent-free UV coating provides an extremely hard finish that's chemical and abrasion resistant.
It makes details really pop! On deep colors, it results in a stunning, almost wet appearance.
Perfect when you want a durable, environmentally-friendly piece with a richer, high-end look and feel.
Soft Touch® Coating
This coating creates a velvety texture.
The paper becomes "soft" to the touch and increases the tactile appeal.
Softer look and feel than aqueous or UV coating, while creating a barrier which is fingerprint resistant.
It dries fast, is non-yellowing, and is eco-friendly.