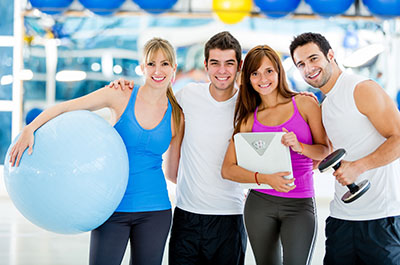 The fitness industry is booming in 2015. Health clubs and fitness centers now rake in about $27 billion in revenue annually, with huge potential for growth across the board.
About 18% of Americans are currently members of a gym or health club, the highest number on record, and this trend is only projected to increase over the next decade as the public becomes more health-conscious.
If the future looks so bright for the fitness industry, why does it seem like so many fitness centers are going out of business? Like many Americans, you can probably recall a few gyms in your area that closed their doors after only a few short years. How and why are so many gyms failing if the industry as a whole is booming?
The fitness industry is rife with competition, and every year there are as many as 1,000 new gyms that pop up across the US. In the same city, or maybe even within the same shopping center, you are competing against rival businesses that are targeting the same clientele. How can you ensure that your business attracts those members?
The most overlooked hurdle in the fitness industry is marketing. It's not about which gym has the newest equipment or the best trainers – it's about which gym can attract the most members.
Nearly 60 million Americans will flock to fitness centers this year. Here are the 7 best ways to get them to come to your gym:
Know When To Market What month sees the biggest increase in fitness memberships? If you answered January, then you are absolutely correct. Just as you might have suspected, New Year's Resolutions are a huge seller for gyms and health clubs. Incoming members join fitness centers in droves at the beginning of each calendar year in the hopes that they can adopt a new, healthier lifestyle.Even though very few of these members actually stick to their resolutions, it's important that your gym caters to these clients. Ramp up your marketing efforts in November and December so that prospective customers will remember your name when it comes time to join.
Free Trials It is no secret that gym members like to try before they buy. For decades, fitness centers have been using this easy marketing trick to get members to take that first step into the facility. Whether it's a 5-day pass or a week-long free membership, this gives customers the opportunity to use your equipment, meet the staff, and see if it's the right gym for them.Fitness industry executives know that free trials are always better than discounted monthly promotions. If you offer a 50% off monthly special, then you may attract short-term growth, but most of these members won't stay once they start paying full price. Use free trials as the backbone of attracting new clients.
Know Your Demographic Did you know that the average gym member is about 40 years old? Contrary to popular opinion, health clubs aren't full of young fitness gurus, but instead average working adults. The face of the fitness industry is changing and your gym needs to keep up. Find out which parts of your town are home to the most working adults and mail your advertising direct to this target market.
Accessibility and Location Location and accessibility are the two biggest factors that influence which gym a person will choose. Fitness centers should be devoted to convenience – this means ensuring that your gym is open when people get off of work. The busiest time for most health clubs is the early evening after the 9-5 crowd comes home from work.Make sure that your fitness center is properly staffed during peak hours. If you offer yoga classes or other exercises courses, advertise the times or schedules so that prospective gym-goers know when to meet.
Local Business Partnerships Chances are, dozens of health-friendly shops are owned and operated in your area. Contact local vitamin shops, weight loss centers, and health food stores to see if you can negotiate a business partnership. It might be as simple as setting up a small stack of postcards in each other's stores. On the other hand, referral systems also work great. For example, if a member buys a product from a partnered vitamin center, they can receive a discount for a personal training session.
Social Media Promotion In the digital age, it's important that your gym adopts a new, tech-savvy approach. Facebook and Twitter are a great way to spread the word about upcoming fitness courses and promotions, while Instagram has become the app of choice for gyms across the country. For one reason or another, fitness junkies prefer to use Instagram more than any other form of social media.It's important to note that social media should never be the bulk of your marketing campaign. Most of your followers will come from people that are already members. Social media is a great way to keep existing members, not necessarily to attract new ones.
Direct Mail When it comes down to it, any gym's goal is to attract more members and the best way to do that is through direct mail. The reason direct mail works so well is because it essentially blends all of the strategies we mentioned above:

It allows you to easily choose the time of year you want to advertise (especially before that busy New Year's business).
Direct mail is informative. It allows you to easily display your location, store hours, and pricing options.
It lets you advertise special offers like free trials and discounted personal training.
Direct mail hones in on your target market, making a personal impression in the hands of thousands of potential members.
When it comes to direct mail, Impact Mailers is the best name in the business. Our advertisements are printed on plastic postcards that are the thickness of the average credit card. Unlike traditional paper ads, these cards are perceived as having instant cash-value, meaning that prospective members actually want to redeem them before the offer expires. In a crowded mailbox, these plastic cards surely stand out from traditional paper-based advertisements.
For fitness centers across the country, Impact Mailers makes attracting members easier. Our system ensures that thousands of clients are reminded why they should choose your gym every time they open their mailbox.