If you're a restaurant owner trying to increase your business, you're no doubt interested in solid marketing strategies that can better connect you with customers. More specifically, you want a program in place that can not only fill your establishment with new customers, but one that also promotes a positive dining experience for them. A direct mail program is ideal in both respects, and with the added impact of plastic postcards, your restaurant has the recipe for success.
How Do Plastic Postcards Work and Are They Right For Your Restaurant?
Many different restaurant categories, from quick service to fine dining, are already using plastic postcards with great success. The credit card thick glass-like appea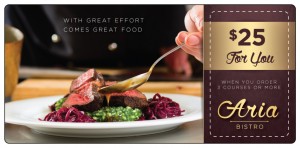 rance not only stands out in the mailbox, but also presents your restaurant in a way that paper just can't match. Customers of fine dining establishments will appreciate the credit card-sized pop-outs as being convenient to use as well as more appropriate and acceptable than a torn paper coupon. Customers of casual and quick service restaurants will appreciate the long term offers that are available with the plastic pop-outs and key tags. These are the offers they take advantage of frequently, and also the ones that encourage repeat visits. While paper coupons may be a "one and done", plastic cards and key tags can be used over and over, growing your base of loyal customers and encouraging them to keep coming back.
What Can I Use Direct Mail Plastic Postcards For?
Aside from advertising "everyday" things like discounts, new menu options and seasonal specials, the following are just a few of the things that plastic Impact Mailers have been used to promote:
If you're in the process of opening a new location and want to make your restaurant known in the local community, use an Impact Mailer to advertise the date of your grand opening and any specials or events that may be associated with it. Now is the time to make a great first impression, and there is nothing better than a plastic postcard to get your business noticed.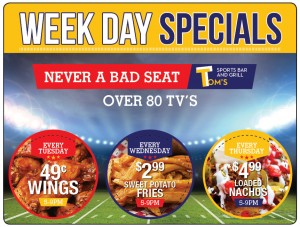 Holidays and Other Special Events
If your restaurant hosts any special events during the week (like a trivia night or a sports-related event), the plastic gift card-like pop-outs are ideal as an invitation to attend.  Include an appetizer, drink special or menu item promotion that is unique to the event and drive mid-week business. The same goes for holiday parties and the like.
If your restaurant has multiple locations, you'll want a marketing strategy that takes into account the differences between each restaurant and the unique specials they may provide. The digital printing process used to produce the Impact Mailer makes advertising for multiple locations a snap. Each piece is unique and can be tailored specifically to a single location, with the specific address, hours, menu specials, etc. Whether you have two locations or two hundred, your campaign can include as many versions as necessary to appeal directly to the local clientele that frequent each individual location. There are no version charges, printing plates, etc. so the days of one size fits all are long gone.
Let the team at Impact Mailers help drive customers to your restaurant. Our staff of sales, production and design professionals know what it takes to create an effective direct mail marketing campaign. Give us a call at 404-973-2770 to request more information or click here to request a sample pack.