Pizza is undoubtedly one of America's favorite foods. From Chicago-style deep-dish to New York-style thin crust, pizza restaurants served up more than $38 billion in sales in 2015. It's clear that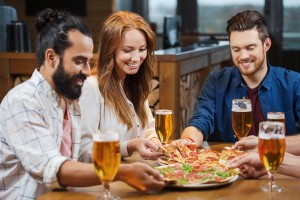 American eaters love a good slice of pizza, but there is also an insane amount of competition from other local restaurants and national pizza chains. Are you looking for pizza marketing to boost sales & customers? How can your pizza restaurant carve out a piece of the market for itself?
Before we jump into marketing solutions, let's discuss some of the reasons why this simple food is in such high demand. Pizza is more than just dough and cheese – it's a social phenomenon. It's what you eat during football games, serve at birthday parties and enjoy on a first date. To put that into perspective:
93% of Americans say that ate pizza within the last month
3 billion pizzas are served annually in the US
46 slices are consumed each year by the average American
70% of Super Bowl viewers chow down on pizza
High-Gluten Competition
Just based on the statistics above, there is no reason to doubt that pizza is one of the biggest markets for food sales. The problem is that there are more than 70,000 pizza restaurants across the country, a number that's increasing every year, making it more and more difficult for young pizza shops to tap into the local market.
Based on data from 2014, independent pizzerias generate about 41% of national pizza sales each year. Big name national chains still dominate the market though – only 4 restaurant chains (Pizza Hut, Little Caesar's, Papa John's and Domino's) make up about 39% of all pizza sales. The remaining 20% is split by more than 100 smaller chains like Sbarro, Cici's, Papa Murphy's, Jet's and California Pizza Kitchen.
As with any successful restaurant, it's important to understand the competition and recognize which local restaurants are fighting for a spot at the kitchen table. Depending on the state, your biggest competitor might be another independent pizza owner or it might be one of those big-name national chains we mentioned earlier. In a state like Massachusetts or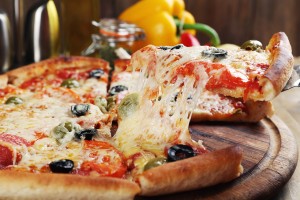 Connecticut, more than 80% of all pizza restaurants are independently owned and operated; while that number is as low as 30% in states like Alabama and Mississippi.
Competition is a good thing, right? Of course, competition forces pizza restaurants to consistently improve their service and offer better slices of pie, but this comes with a price. Pizza restaurants have an uncommonly high level of ownership turnover, meaning that within 3 years, 61.25% of all pizza restaurants have new ownership. For whatever reason, the 3-year ownership turnover rate is as low as 33% for burger restaurants and seafood restaurants.
Thinking Outside of the (Pizza) Box
A slice of pepperoni pizza can taste almost identical from one restaurant to the next, so how can you differentiate your brand and get customers to come back? In order to increase sales at your pizzeria, you have to sell a positive experience, not just good food. It all starts with clever marketing solutions that promote good deals and reward returning customers. Here are some marketing tips that will help your restaurant increase pizza sales:
STEP ONE: Understanding the Local Audience
Find a Niche or Specialty
What's is your pizzeria's claim to fame? What makes it better, or different, from the competition? Whether you offer unique pizza toppings or an unbeatable lunch special, customers need a reason to keep coming back. Answering this question will help you target the audience that you're trying to reach.
Follow the Seasonal Trends
The five busiest days for pizza sales, in order, are Super Bowl Sunday, Halloween, New Year's Eve, the day before Thanksgiving, and New Year's Day. Restaurant owners need to understand that pizza cravings ramp up near certain holidays. You can get better value from your marketing campaigns by saving promotions until the weeks before these high-volume sales days.
In order to understand your average customer, you need to know what they think of the business. There's no better way to interact with customers and gauge local support than a strong social media presence. Later on, social media is a great way to market your pizzeria, but it starts as a vital tool for understanding your ideal customer.
Enhance the In-House Experience
Put yourself in the shoes of a customer and scrutinize everything that's part of the restaurant-going experience. From interior décor to staff friendliness, your restaurant's image should match or exceed customer expectations. Hiring a good staff and upgrading interior fixtures could be the most impactful way to boost sales at your pizzeria.
As any restaurant owner knows, the most difficult part about advertising is getting real conversions. It can be difficult to start an advertising campaign, but even harder to make money off of it – that's because we have two goals: attracting both new customers and returning ones. Ideally, repeat customers should make up 60% or more of your clientele, so it can sometimes be difficult to cater to both audiences at once.
STEP TWO: Getting Real Conversions
Get Your Menu in their Mailbox
Pizzerias are a perfect fit for direct mail. Delivery or pick-up customers expect to have a menu on hand, maybe hanging from a refrigerator magnet or stuffed in a kitchen drawer. In any case, it's your pizzeria's responsibility to send restaurant menus to hundreds or even thousands of mailboxes in your area.
Promote Something Irresistible
Almost every pizza restaurant has daily specials, combos or promotions. Unless you're a gourmet pizza establishment, coupons and other deals need to be front and center of your marketing campaign. When prospective diners can't choose between multiple pizza restaurants, price is one of the first factors they take into consideration.
Many casual restaurants now have punch-card systems to reward repeat diners. After a given number of purchases, a customer might receive a free appetizer or menu item. These purchase "goals" are a great way to build a loyal customer base and encourage new diners to get their own cards.
Maintain a Client Database
Want to send email newsletters or updates to dedicated customers? When diners sign up for rewards cards, they can also become an email recipient, so they receive personalized greetings with deals and other business updates. Just make sure not to overdo it with emails – successful marketing can turn sour once you begin over-emailing.
As it turns out, many of the goals above can be accomplished with a single marketing strategy: direct mail. This should be a no-brainer for most pizzerias because the initial goal is getting your restaurant menu and contact information into the hands of the local consumer.
Direct mail is getting more advanced, too. Plastic postcards are rapidly becoming one of the most popular ways to cut through mailbox clutter.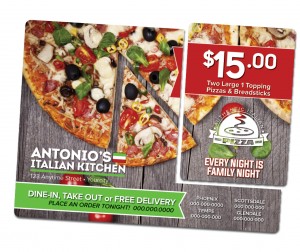 What better way to advertise your restaurant than a credit card-sized popout that customers can carry around in their wallet? It can be printed with information about special deals and can double as a rewards membership card, essentially knocking out two marketing goals with one stone.
Historically, direct mail has been a cornerstone of pizza marketing and this won't be changing anytime soon. Especially with new technology like QR codes, unique personal identifiers, and other easy-to-use technology features, direct mail postcards are making marketing even more economical and accessible to thousands of pizzerias large and small.
Looking for more information about how to get on board with a reliable direct mail partner? Contact the team at Impact Mailers for more information about reaching the local audience that's important to your business.